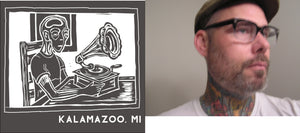 Linocut by Jason Gerds
What art medium or mediums do you use?
I like to explore various forms of printmaking. At the moment I am especially fond of monotype printmaking.
What is your tie to Kalamazoo and how much time have you spent in Kzoo?
I was born and raised here. I have lived in a few other places, but always seem to return to Kalamazoo. Its a pleasant and comfortable vortex.
What is your favorite venue and/or spot to chill in Kzoo?
Most of my favorite places have unfortunately come and gone. I would say these days my favorite place is my studio.
What season do you love most in Michigan? 
What is your go to jam, band, or music genre when creating?
At the moment my go to bands are Xiu Xiu, Tortoise, Silver Apples, and Pere Ubu.
If you had an empty vessel and you could fill it with an infinite amount of any fluid you wanted,
what would the fluid be?
Coffee!
What can you talk about for hours?
The absolute disaster this current administration is and the danger it poses. Once I get started, it becomes hard to stop. Ha.
Give a description of the art piece we are using for the shirts.
This is one of my first Linocut prints I did about a year or so ago. It shows a figure engaging in my favorite past time of getting lost in a good record.
Are there any current events going on that you feel strongly about, think people should know more about, and/or should be taking a more active role in?
I think the Trump administration and the people complicit in its functioning pose the biggest concern and threat to this country at this moment. They are a constant reminder of how ugly this country can become if left unchecked. Voting should be top priority of any sane person at this moment.
Where can people find more of your art and more about you?
Website coming soon!
---