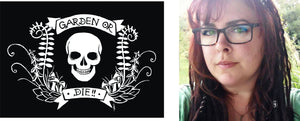 Garden Or Die by Shannon Lovorn
Where are you from and where are you now?
I was raised near Jackson in a little town called Michigan Center, and I lived in Kalamazoo for 6 years after high school until I got married. I moved to Texas for several years and found my way back to Michigan. Now my family lives just north of Allegan out in the country, but after our kids graduate from high school who knows where we'll go!
What art medium or mediums do you use? What is your favorite?
I use several different mediums when I create. I make wire wrapped jewelry using copper wire, gemstones and crystal points, and interesting odd bits that I find at flea markets and estate sales. My favorite jewelry item to create are Celtic and Norse inspired brooches made in the ancient annular and pennanular styles. I also really enjoy painting with acrylic paints, and have been known to paint anything from vintage boxes to canvases to murals. I enjoy teaching painting and jewelry making classes and teaching in private "wine and canvas" style parties. Lately I've been having a lot of fun experimenting and drawing goddesses with felt tip pens.
What is your go to jam, band, 
or music genre when creating?
I really enjoy zoning out to Wardruna, Omnia, Faun, and Heilung when creating.
If you had an empty vessel and you could fill it with an infinite amount of any fluid you wanted, what would the fluid be?
I know I really should say water, but I'm Irish and German, so I'm going to say a nice bitter IPA microbrew. Or perhaps a really dry red wine.
What can you talk about for hours?
Foraging wild food, permaculture and gardening, herbal folk remedies, King Arthur, Merlin and folk tales.
What is something most people don't know about you?
I was born in Stuttgart Germany and have a dual citizenship
Give a description of the art piece we are using for the shirts.
This piece was created especially for Cadwell Company. It definitely has a double meaning to me because gardening is a huge stress reliever for me and without getting my hands in the soil, I would surely go crazy. But on a more serious note, gardening is the one rebellious act that anyone can do anywhere. Standing up against commerce and big corporations by growing your own food and taking power over your diet, health, and pocketbook are powerful things. Unhealthy GMOs, junk food, convenience foods are killing people. By gardening and taking control of where your food comes from you are eating healthier, getting exercise, saving money, and sticking it to the man. The commercial farms and agriculture business really are killing our environment. By taking the food power back and growing your own, you reduce the need for commercial farms and helping to save the environment. It literally is GARDEN OR DIE.
Are there any current events going on that you feel strongly about, think people should know more about, and/or should be taking a more active role in?
Civil rights are a something I feel very strongly about. Whether we're talking women's rights, LGBTQ+ rights, or the rights for ethnic or racial equality. We must teach the our children to embrace our differences and I talk openly with my kids about civil rights struggles and have taken them to civil rights marches. My 14 year old daughter considers herself to be an activist and feminist, so I guess I'm doing something right. I also feel very strongly about permaculture. Permaculture is an agricultural system that mimics natural ecosystems and lets nature do the hard work for you. Only by using everything to it's fullest potential and being self sufficient will we reverse the damage done to the environment and provide ourselves with necessary food while ridding us of pesticides, herbicides, and other nasty chemicals.
Where can people find more of your art and more about you?
My Etsy shop is

https://www.etsy.com/shop/TheCrowCottage

, and some of my items can be found at Artes and Craft pagan shop in Gobles. I can also be found vending at various art shows throughout west Michigan during the summer.
---